The Free Clinic of the Greater Menomonie Area provides access to primary health care and preventive health education for the people of Western Wisconsin who are under insured and are at or below 250% of the federal poverty guideline.
Hours of Operation: Clinic is open on Tuesday evenings with Registration from 5-7 p.m.
Basic Services Provided: Health exams, lab, medications (excluding controlled substances) and reproductive health services. Dental services referred to other providers and payment stipend offered on a case-by-case basis.
What information do I need to bring with me?
 List of current medications
 Health history information
 Recent test results
 Proof of income- required for some services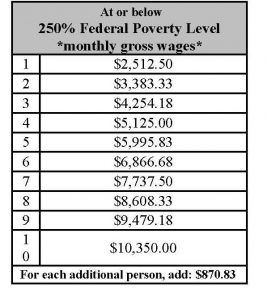 Please see Patient Information tab for more information.
Services are provided according to need, without discrimination based on race, religion, color, sex, sexual orientation, gender identity (including gender expression), pregnancy, national origin or ancestry, immigration status, disability or association with a person with a disability, arrest record, conviction record, marital status, family/parental status, pregnancy or childbirth, and military participation.